Hello Friends,
I took a long walk in our woods today.
It is just cold enough to keep you moving but
warm enough so you can still enjoy the walk.
I went back to check on his leaf mold bins.
You can read our original
Leaf Mold
post here.
It snowed again last night and I enjoy taking photos of the snow.
Here is a pic of his three teired
leaf mold
bin set-up.
He placed it next to the old Farm house we found when cleaning
up one of our potential house site areas.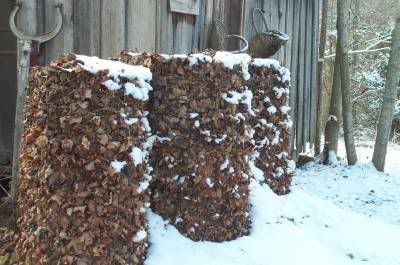 If you would like to read the original how to article about
How to start your own
leaf mold
compost pile.
You can go here and read all about it.
Leaf Mold
article.
Warm Winter Wishes from our Home to Yours.
-bluegrassgardener
Our Kentucky Home and Gardens