MINI PUMPKIN FROM
THE GREAT MANURE HILL EXPERIMENT
In a previous post called;
"The Great Manure Hill Experiment Our Gumpkin"
I shared with you about one of our planting experiments.
We haven't cut open our Gumpkin yet, but today
we decided to harvest the seeds from one of the mini pumpkins
from the hill.
The seeds are almost as big as the pumpkin :)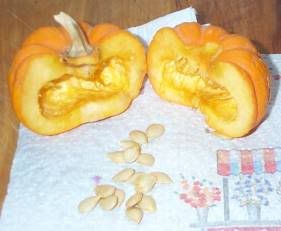 I have always enjoyed miniature pumpkins and gourds.
They can be used in so many ways.
They are so cute when placed on a window sill or
piled in a basket on top of spanish moss, for example,
for a inexpensive Fall decoration.
For a special Fall table decorating idea,
You could use them as a
Pumpkin Place Card
for a special
dinner or get-together.
Either by setting a pumpkin on the plate
with a name card propped against i,t
or by drawing a face and / or writing the guests' name
on the pumpkin with a black magic marker.
I have even seen
Miniature pumpkin candleholders
used for dinner table centerpeices.
Too C U T E !!!!!
Another decorating idea is a
Miniature Pumpkin Wreath
.
It's made by using a wire form, mini-pumpkins, spanish moss and a bow.
Next Fall I will share more detailed instructions.
In a few organic restaurants, they use hollowed out
mini pumpkins for serving wild rice or other vegetarian sides.
Here is a recipe I stumbled across after it was too late
to use my pumpkins for food.
This Fall I intend on trying them for myself.
These
Stuffed Mini Pumpkins
can be Served for luncheon
or as a side with any kind of entree you desire.
WILD RICE STUFFED MINI PUMPKINS
4 mini pumpkins
1/2 cup wild rice
3 to 4 cups water
juice of one orange
2 tsp honey
salt and pepper to taste
1/4 cup dried cranberries
2 TB chopped pecans
1 tsp orange zest
Preheat oven to 375°F.
In a small sauce pan, add the wild rice
and fill with enough water to cover.
Bring to a boil and then simmer for 30 - 40 minutes
or until done.
While rice is cooking, cut the top off the pumpkins.
Scoop out the seeds and strings with a spoon.
Place the pumpkins upside down in a baking pan with 1/3 inch of water.
Bake for 15 minutes.
Carefully turn the pumpkins upright,
return to oven until flesh is tender when pierced with a fork
approximately 5 to 10 additional minutes.
Place the cooked , rinsed and cooled rice in medium size bowl.
Set aside.
Juice the orange and add honey, mixing together well.
Pour honey mixture over the rice.
Add salt and black pepper, and stir well.
Stir in the cranberries, pecans, orange zest.
Adjust seasonings if needed.
Spoon the rice into each of the pumpkins and serve.
My Variation ideas:
add to rice:
1 tsp chopped fresh mint (optional)
or
Seasoned pepper instead of black pepper
or
Use Pecans instead of Walnuts.
hmmm, How about a truly Simple &
Q U I C K mini-pumpkin side idea:
1. Cook the pumpkins as described
2. Buy a box of wild rice mix, follow the directions
on the box, maybe add some nuts.
Fill the pumpkins with the cooked rice mix
and you are done.
When mini-pumpkins are back in season
I will be sharing all kinds of additional ideas and recipes
From
Pumpkin Soup
to Fall
Pumpkin Crafts
...
Return to
Our Kentucky Home and Gardens
Home page