THE GREAT MANURE HILL EXPERIMENT
or

THE GUMPKIN

part 1
Hello Friends,
This past year he decided to see what would happen if he tried to sow seeds directly into a
tiered seasoned manure hill. He a took a 6' by 6 ' area of raw horse manure, he let it season for several weeks & turned it every few days or so. Once the manure had 'cooled' down:
He made a small tier (like a staircase) "manure only" bed and sowed
different seeds in each step of the tier.
He used Pumpkins, miniature pumpkins and several types of gourds.
We ended up with a half gourd - half pumpkin creation,
I affectionately call it a Gumpkin.
Gourd+ Pumpkin = Gumpkin.
Makes sense to me.
The first pic below was when we harvested it on October 19th,
as you can see it was mostly green.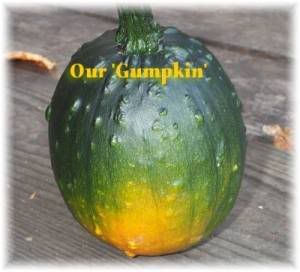 The second pic was taken today,
December 21st and it has turned a beautiful shade of orange.
I can't wait to cut it open to see what the inside looks like.
When we decide to open it up and harvest the seeds
I'll post more information so be sure and check back for
'The Gumpkin part 2'
or maybe I will call it
'Gumpkin, the sequel'
or how about
'Forest Gumpkin'...
lol
;)
"Nature is the art of God"

Our Kentucky Home and Gardens